Whats the difference between cannabis, marijuana, hemp, and cbd oil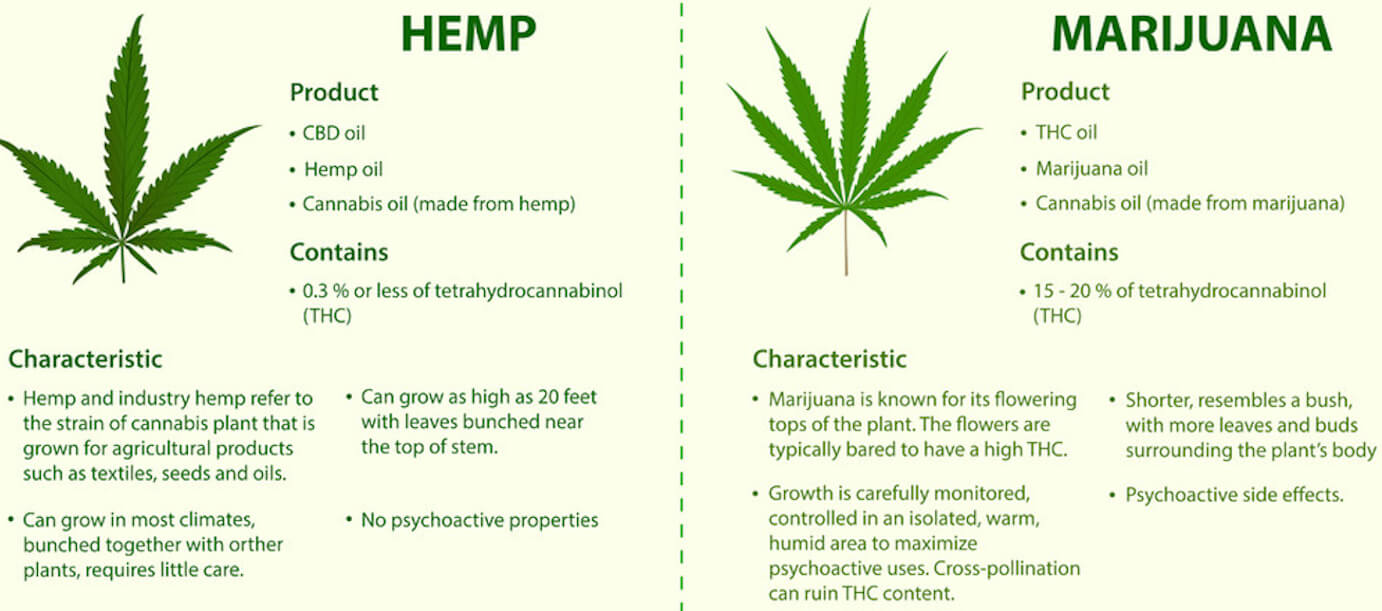 cannabis, marijuana, hemp – what's the difference? the truth is, not as much as you might think.
despite fear-mongering since the way back in the 1920s, bolstered later by nixon's 'war on drugs', what lies beneath the bad rap of marijuana and the wholesome face of hemp is simply this: they're effectively the same plant, cannabis sativa. But, due to the widespread misconception of cannabis fuelled by 100-year-old propaganda and an unintentional outlaw of one of the world's oldest domesticated crops, the difference between its classifications and remarkable uses has been clouded.
Through the accessible information you can find on the nabino site, we hope to do our part in clearing things up a bit.
Despite being much closer than some would have you believe, there are a variety of key differences between hemp and marijuana which give them their unique characteristics and interaction with the human body.
let's talk thc
We want to get straight down to the point everyone wants to know about – the potential levels of psychoactive cannabinoid THC.
Many people believe that hemp is the innocent 'sister plant' to wild and rebellious marijuana, but in fact this is really just a word used to describe a classification of cannabis with a THC content of 0.3% or less. Marijuana, on the other hand, is the name used for cannabis plants with 0.3% THC or more. One has the potential to get you high (with a THC variation of between 0.3% and 30%), the other doesn't. It's really that simple.
In answer to that burning question though: no, you can't get high off hemp.
Can you see the difference?
Although hemp and marijuana are both flowering plants in the Cannabaceae family, they are different in appearance – just as dogs are all members of the biological family Canidae, but a wolf is quite distinct from a Chihuahua.
Hemp is far more hardy than marijuana, and thrives outside in a variety of climates in large plots. It grows up to 20ft tall and in copious supply with sturdy stalks and skinny leaves situated at the top of the plant. Marijuana requires far more cautious cultivation in a controlled, un-cramped environment and results in dense, broad-leafed bushes with large buds in a far smaller yield.
They can't be grown together for risk of cross-contamination.
What are their uses?
Both hemp and marijuana contain all of the same 100+ cannabinoids we here at nabino love to see in our CBD products, just in varying degrees.
As mentioned above, the difference in THC means that marijuana does have psychoactive effects whereas hemp does not. However, 'getting you high' is not the only thing Tetrahydrocannabinol (THC) has to give. It also offers a whole host of unique wellbeing benefits, just like CBD which is also present in abundance in both plants. When the whole spectrum of phytocannabinoids are allowed to work synergistically they create what's known as the entourage effect, enabling them all to work with your body's endocannabinoid system (ECS) just as nature intended.
CBD products sold legally in the UK are all derived from hemp, not marijuana as CBD derived from marijuana is still illegal, even if the THC has been removed entirely. Although in full spectrum and often deep spectrum CBD products you will get the small dose of THC hemp has to offer, we're looking forward to the day when nabino can introduce you to marijuana derived CBD oil, with just a little more THC to enhance the overall effects.
Aside from CBD oil, there are many other uses for this superplant, particularly the hemp classification. The leaves and flowers of the hemp plant is what is used for making CBD oil, but in true ecologically sound fashion, the entire plant can be transformed into all sorts of wonderful things! Stalks and seeds can be used to make hemp oil which contains little to no CBD, but is a wonderful source of phytonutrients, omega-3 fatty acids, protein, anti-inflammatory gamma-linolenic acid and great for cooking and cosmetics. Hemp can also be used for making textiles (from nappies to carpets!) and even eco-friendly building materials such as hempcrete and insulation.
Should hemp and marijuana be treated differently?
Here at nabino we're all about honesty and education. You'll come across many CBD brands who offer safety and comfort in the knowledge that their products are only ever derived from hemp - not a mention of cannabis in sight. And while this is true of all legal CBD products in the UK, kowtowing to the manufactured idea that one is bad while the other is good drives the continued spread of mis-information about the worlds greatest superplant.
This is why, when scanning the nabino website, you will find us readily referring to cannabis and openly sharing the truth about marijuana. And it's not just because we like to get our facts right (we do), it's also because this long-standing smoke and mirrors act is what is depriving us all of the full raft of benefits the cannabis plant has to offer – the entourage effect. Hemp, while an incredible plant in its own right with high cannabidiol (CBD) content acts as THC's antagonist, which essentially makes the tiny amount of THC present fairly fruitless in terms of the benefits it has to offer.
The regulation of cannabis is such that marijuana is illegal and hemp is legal (although it wasn't for around 80 years). And while nabino would rather this than nothing at all, in an ideal world we would like to see all variations of the superplant made legal and available to use for it's wellbeing benefits. Moreover, we would like to see the end of outdated misapprehensions to make way for more in-depth studies of cannabis' great potential.